Unlock Success with Our Revolutionary Omni Channel Management Solutions
Channel management, elevated
Simplify the process of selling online across multi-channel marketplaces or webstores. Get a complete view of orders, inventory, products, promotions, and SLAs across your online channels on a single platform in real-time. Your multi-channel e-commerce environment, elevated.
Learn More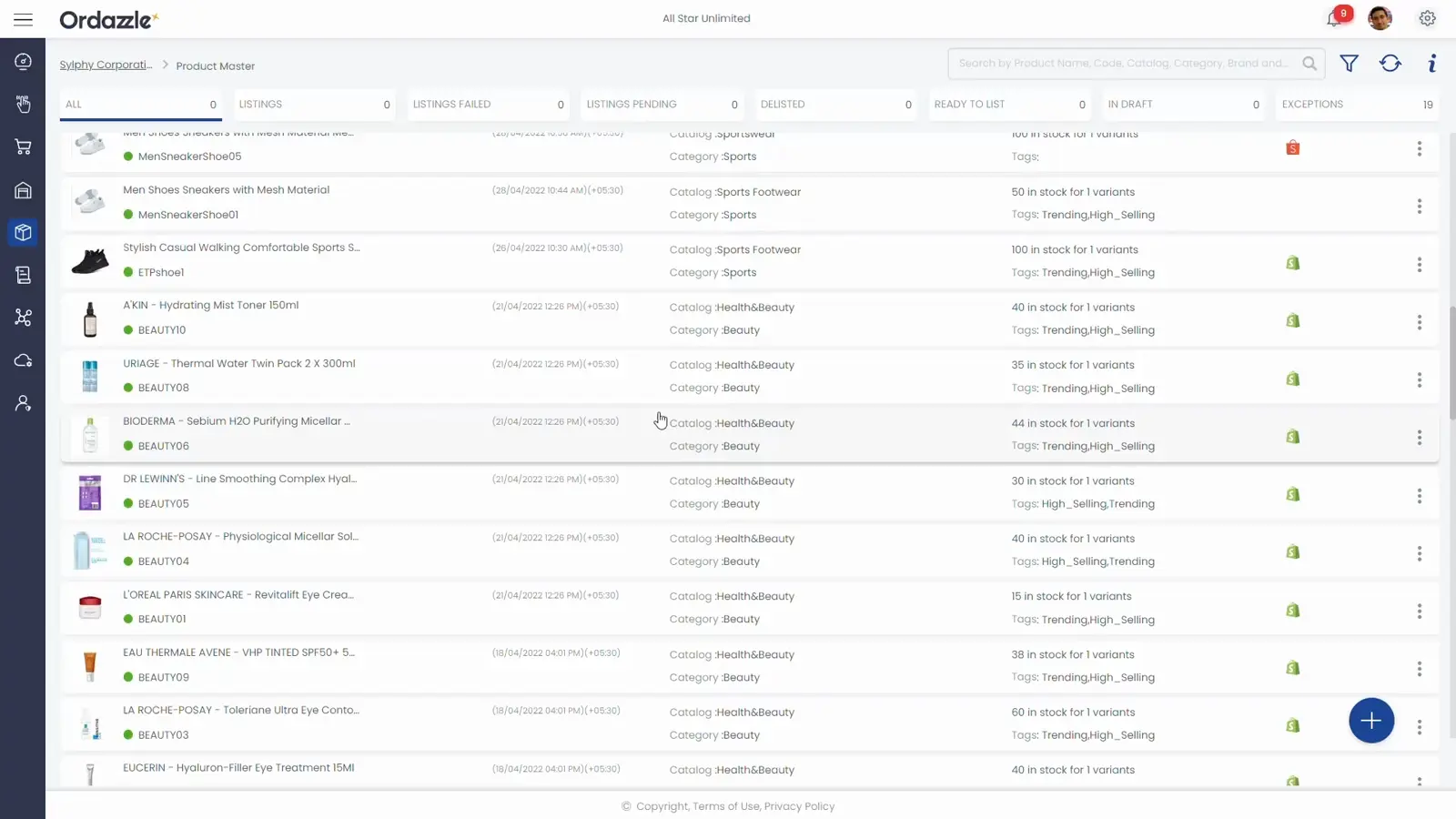 Combine orders from all online stores on to a single interface for easy management.
Marketplace Inventory Sync
Track inventory across all e-commerce channels to get a live view of the availability of all products.
Products, stocks, prices, and orders created in Ordazzle are synced in real-time with the integrated channels.
Pre-built integrations allow you to update, promote and sell your products on every channel that matters.















Frequently Asked Questions
What is omni channel management system?
An omnichannel management system is a tool that helps businesses handle their various communication and sales channels in one organized system. This system, also known as omnichannel management, it helps companies interact with customers consistently across platforms like websites, social media, and physical stores.
It ensures seamless customer experiences by integrating these channels and managing interactions efficiently. Additionally, it can enable businesses to sell on different online marketplaces efficiently. Simply put, it's like having a single control center to manage all the ways a business talks to and sells to customers, making things easier and better for both the business and its customers.
What is the purpose of a multi-channel marketing system?
The purpose of a multi-channel marketing system is to reach and connect with customers in various ways. It helps businesses use different methods, like websites, social media, and stores, to communicate with people.
An omni-channel management system combines all these ways, ensuring customers get the same experience everywhere. This kind of system is called an omnichannel solution. In simple words, a multi-channel marketing system lets businesses be where their customers are, making it easy for everyone to know about and buy their products.
What are the benefits of a channel management system?
A channel management system helps people in many good ways. It makes things easier when selling products. You can put all your products in one place and control them easily. This system also helps with bookings and orders, so you don't miss any.
It talks with different websites where you sell things and updates all at once. This saves time and stops mistakes. Also, you can see what's happening with your sales in one spot. This helps you make good choices about what to do next. So, this system makes selling and keeping everything organized simple and better.
What are the unique features of Ordazzle's omni-channel management system?
Ordazzle's omni-channel management system stands out due to its distinct features. 
It helps businesses handle their operations seamlessly across various platforms. 

It lets companies manage online and offline sales in one place, making things simple. 

The system offers real-time inventory updates, aiding in accurate stock monitoring. 

Its customer support feature ensures consistent assistance through all channels, boosting customer satisfaction. Ordazzle's system also allows personalized marketing, tailoring promotions to individual preferences.

Lastly, its data analytics tool helps in understanding customer behavior, aiding in informed decisions. 
In summary, Ordazzle's omni-channel system streamlines operations, provides customer-centric services and utilizes data for strategic growth.
Channel management, elevated.
Manage your multiple marketplaces and webstores more efficiently with Ordazzle's marketplace management system and redefine your ecommerce experience.