Streamline E-commerce Logistics Management with Logistics Software Solutions
Logistics management, elevated
Manage all your logistics providers effortlessly from one interface, including handling manifests, shipping labels, and invoices. Track multiple orders, from multiple marketplaces, being delivered by multiple carriers, at the same time!
Learn More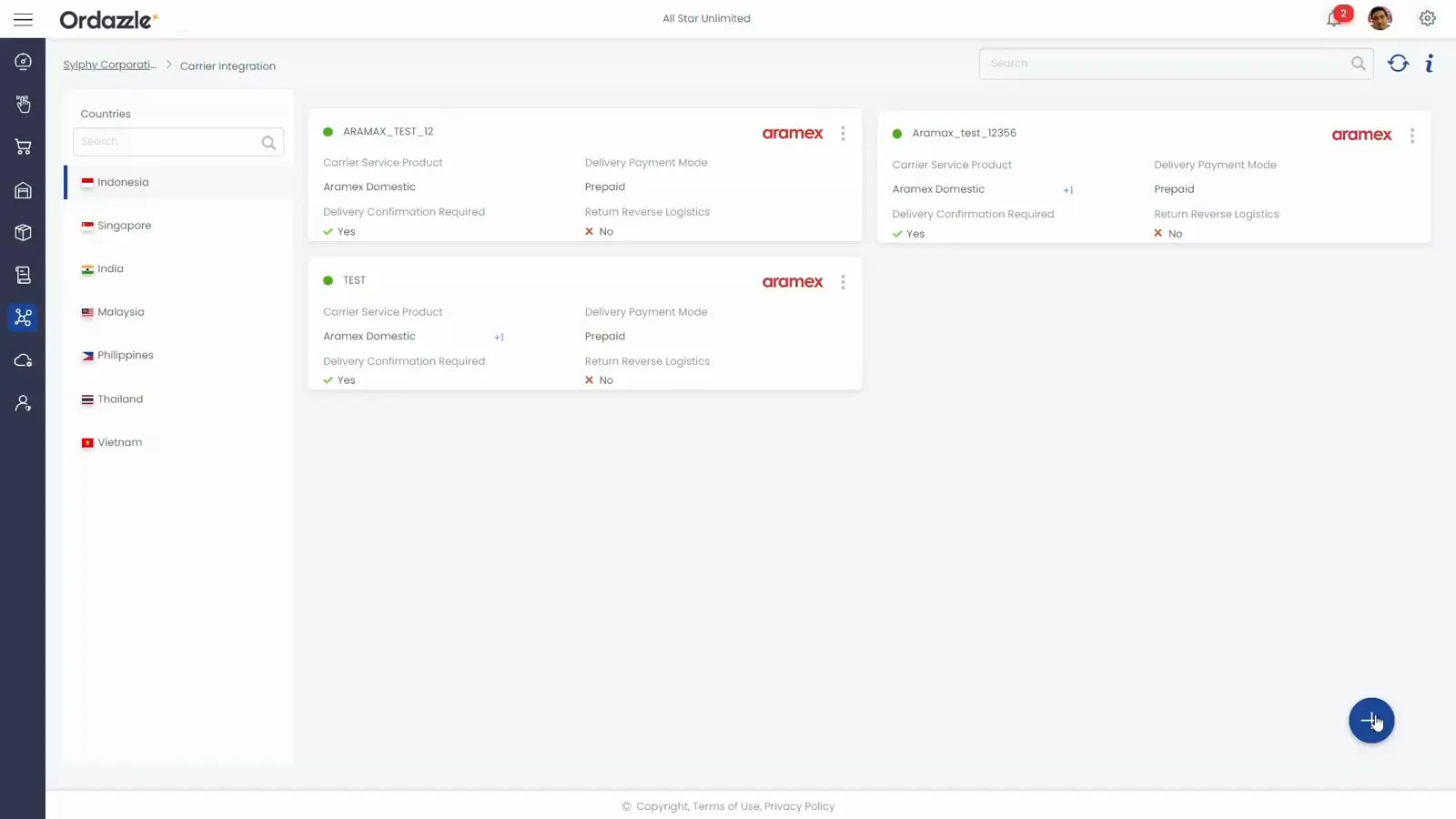 Ordazzle is pre-integrated with over 60 different shipping carriers.
Manifests & Shipping Labels
Shipping labels and manifests across multiple carriers and channels can be downloaded from Ordazzle.
Pick, pack, label, and ship your orders across channels from single platform.
Track multiple orders, from multiple marketplaces, being delivered by multiple carriers.





































































































Frequently Asked Questions
What is logistics management?
Logistics management refers to the efficient planning, implementation, and control of the movement, storage, and distribution of goods and services. It involves utilizing an integrated logistics management approach, which integrates various processes through logistics information systems and logistics management software solutions.
These systems streamline operations, enhance supply chain visibility, and optimize resource allocation. Logistics management systems ensure smooth coordination among suppliers, manufacturers, distributors, and customers, resulting in cost-effective and timely deliveries. By employing logistics management solutions, businesses can achieve improved inventory management, reduced operational costs, and heightened customer satisfaction.
What are the challenges in logistics management?
Logistics management involves coordinating the movement of goods from suppliers to customers. Several challenges exist in this field. One issue is ensuring smooth communication among all involved parties, which can be addressed by using logistics information systems.
Another challenge is integrating different aspects like transportation and inventory, which can be tackled with integrated logistics management. Logistics management systems and software solutions play a role in streamlining operations and tracking shipments.
However, these solutions must be chosen carefully to fit a company's needs. Overall, logistics management faces difficulties in maintaining efficiency, cost-effectiveness, and timely deliveries, for which logistics management solutions and software are vital aids.
Why it is important to improve the logistics management process?
Improving the logistics management process is crucial for several reasons. It helps businesses to operate more smoothly and efficiently, making sure that goods are delivered to the right place at the right time. By using integrated logistics management and logistics software solutions, companies can better track their products, reduce delays, and minimize errors.
A logistics information system allows real-time monitoring of shipments and inventory, leading to better decision-making. Effective logistics management systems streamline operations, lower costs, and enhance customer satisfaction. In short, investing in logistics management solutions and software ensures better control over the entire supply chain, enabling businesses to meet customer demands effectively and stay competitive in the market.
How does a logistics management system work?
A logistics management system is a tool that helps businesses organize the movement of goods efficiently. It combines a logistics information system and integrated logistics management.
It ensures products reach the right place at the right time. Logistics management solutions assist in tracking shipments, managing warehouses, and optimizing routes. It is all-in-one logistics management software that boosts productivity and reduces errors, making sure operations run smoothly. In simple terms, a logistics management system brings together technology and strategies to make sure products are handled, stored, and delivered in the best possible way.
What are the benefits of logistics management software?
The software brings many benefits. It helps in organizing the movement of goods efficiently, making things easier. This type of software assists with tasks like inventory tracking, order processing, and transportation planning.
With a logistics information system, businesses can save time and reduce errors. These logistics management solutions enhance communication between different parts of the supply chain, making it smoother. They offer insights into performance and trends, aiding in better decision-making. Overall, using logistics management software boosts productivity, reduces costs, and improves customer satisfaction through streamlined operations and effective management of resources.
What are the unique features of Ordazzle's integrated logistics management system?
Ordazzle's integrated logistics management system offers a range of special features. 
This logistics software solution combines various aspects of logistics into one system, making it easier to manage. 

It includes a logistics information system that helps track shipments and inventory efficiently. 

The integrated logistics management feature ensures seamless coordination between different stages of the supply chain, enhancing overall efficiency.

Ordazzle's solution stands out due to its user-friendly interface and comprehensive logistics management solutions, allowing businesses to optimize their operations. 

This logistics management system streamlines processes, from order placement to delivery, making it an essential tool for businesses seeking effective logistics management software.
Logistics management, elevated.
Redefine your e-commerce experience with Ordazzle's logistics management software solutions and manage your logistics integration more efficiently.