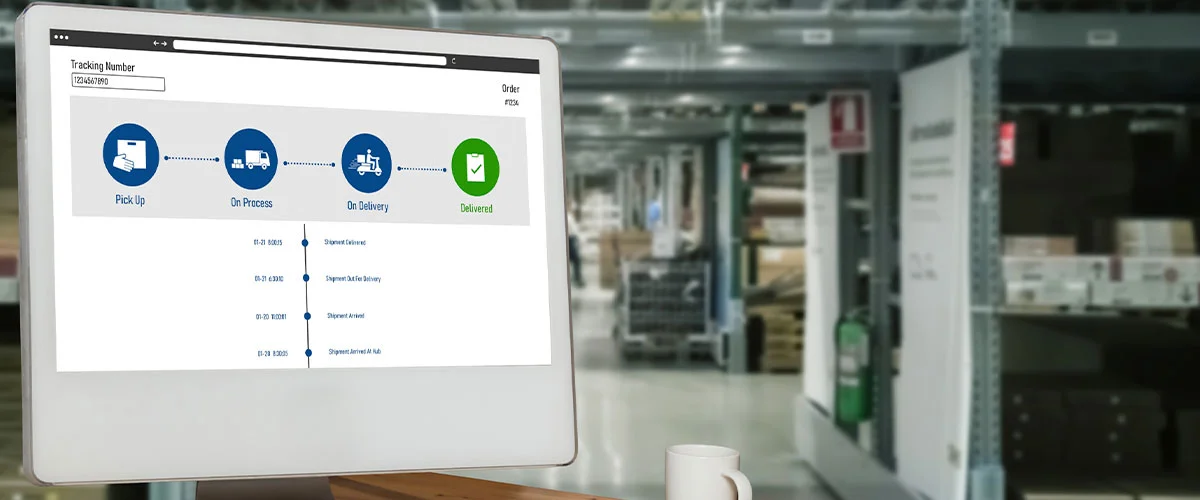 E-commerce Logistics Strategies: Ensuring Successful and Error-free Order Fulfilment 
If you need an example of just how much technology has changed our daily lives, you need to look no further than e-commerce. From furniture to fruits, you can now get everything delivered right to your doorstep. E-commerce has revolutionised the way people buy and sell products. The potential for growth is tremendous.
But only if you can manage your logistics efficiently.
E-commerce logistics is the process of managing the movement of goods from the point of origin to the point of consumption. It plays a crucial role in the success of any e-commerce brand. It is also one of the hardest things to manage.
In this blog, we will discuss e-commerce logistics strategies that can ensure successful and error-free order fulfilment.
What does e-commerce logistics mean?
E-commerce logistics refers to the various stages involved in the order fulfilment process. From order processing to inventory management, shipping to returns management, it includes it all.
Now, depending on the type of business that you have and the type of product that you sell, you can choose from the various logistics methods available. There are three main types of logistics:
In-house fulfilment: In this model, you manage all aspects of the logistics process in-house, from inventory management to shipping.

Drop-shipping: You don't need to hold inventory in this model. Instead, when a customer places an order, you pass it on to a third-party supplier who then ships the product directly to the customer.

Third-party logistics (3PL): In this model, you can outsource your logistics operations to a dedicated logistics provider.
What are the common challenges faced in e-commerce logistics?
It's hard to imagine that something as innocuous as e-commerce logistics can be such a difficult thing to manage. But there are several challenges that you can face. These challenges include:
Inventory management: With a large inventory, it can be challenging to keep track of stock levels and ensure that there is enough stock to fulfil orders.

Order accuracy: Errors in order processing can lead to incorrect or missing products being shipped to customers, resulting in negative reviews and decreased customer loyalty.

Shipping delays: Customers expect fast and reliable shipping. Shipping delays can lead to customer dissatisfaction and lost sales.

Returns: Managing returns can be time-consuming and costly for businesses, especially if there is no streamlined process in place.

E-commerce logistics strategies for successful order fulfilment
To overcome these challenges and ensure successful order fulfilment, businesses can implement several logistics strategies. Here are some examples:
Automating inventory management and order processing 
This can help you to streamline your logistics operations, reduce errors, and increase efficiency. By using inventory management software, you can track stock levels, monitor inventory movements, and generate reports on sales. 
By automating the manual tasks in e-commerce logistics, you reduce the chance of making errors and you can speed up your order processing at the same time. 
Implementing a reliable warehouse management system 
A WMS is a software application that can manage your warehouse operations. These systems are incredibly powerful and can handle everything from inventory management to order processing and shipping.  
By implementing a good warehouse management system, you can improve inventory accuracy, and reduce picking and packing errors. You can also track orders from receipt to fulfilment, reducing the risk of lost or missing items. 
Partnering with trusted carriers and offering multiple shipping options 
You need to work with service providers that you trust. That is the only way you can hold on to some semblance of control in the entire process. By working with reliable carriers, you can ensure that products are delivered on time and in good condition. 
Apart from that, offering multiple shipping options like same-day delivery and expedited shipping in certain areas can also help you stand out. It can allow you to cater to different customer needs and preferences. 
Providing real-time tracking and delivery updates to customers 
This helps to improve customer satisfaction and reduce customer inquiries. By providing customers with real-time updates on the status of their orders, you can build trust and loyalty with their customers. Real-time tracking can also help you to identify and address any issues that arise during the delivery process. 
Streamlining returns and exchange processes 
Returns and exchanges are a part of e-commerce logistics, and managing them efficiently can help businesses reduce costs and improve customer satisfaction.  
After all, the customer is buying from you without meeting you or verifying your products. You've got to give them a way out if they wish to return the product. Having a flexible return and exchange policy can actually encourage new customers to purchase from your brand.  

But this means, you need to streamline your returns process. 
By implementing a streamlined returns and exchange process, you can reduce the time and cost associated with managing returns and exchanges. This can include providing customers with easy-to-follow instructions for returning or exchanging products, providing pre-paid return labels, and processing returns and exchanges quickly and accurately. 
Conclusion
E-commerce logistics plays a crucial role in the success of an online business. Effective e-commerce logistics strategies can help reduce costs, increase efficiency, and improve customer satisfaction.
Please keep in mind that this list of strategies is not exhaustive in nature. You can come up with a customised version if that is what works best for you.
There are many other logistics solutions that you can explore — such as using drop-shipping to reduce inventory costs or leveraging artificial intelligence and machine learning to optimise e-commerce logistics. Feel free to check out the offerings from Ordazzle to get started.