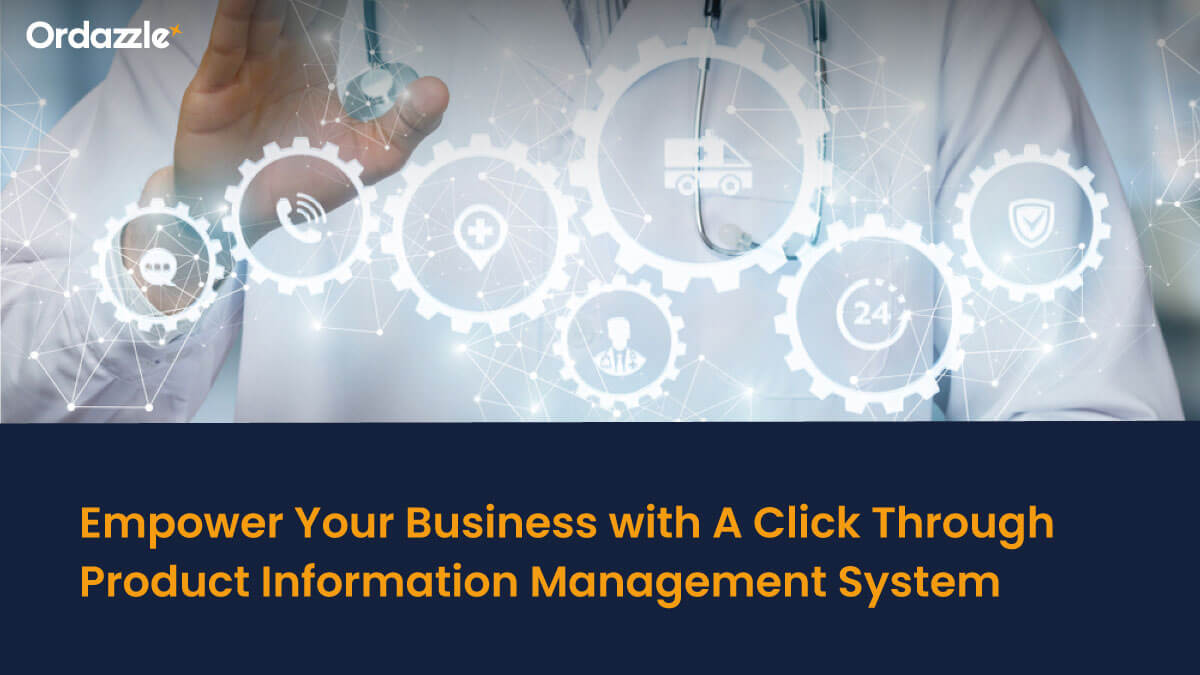 Empower Your Business with A Click Through Product Information Management System
Facing challenges with growth management or worried about how to scale your business and take product information management to the next level?
As an ecommerce business, you likely understand the difficulty of managing ever-expanding stock information. And as the company grows the list of products, labels, materials, product descriptions grows too.
With no system in place to coordinate the exchange of data between your sales, marketing, and customer success teams, organizing product information manually can be a very expansive and tedious task.
But the good news is you can achieve your business goals and meet the objectives through advanced Product Information Management systems.
In this post, we will be discussing what product information management is, the challenges faced by corporations, and its features.
What is Product Information Management (PIM)?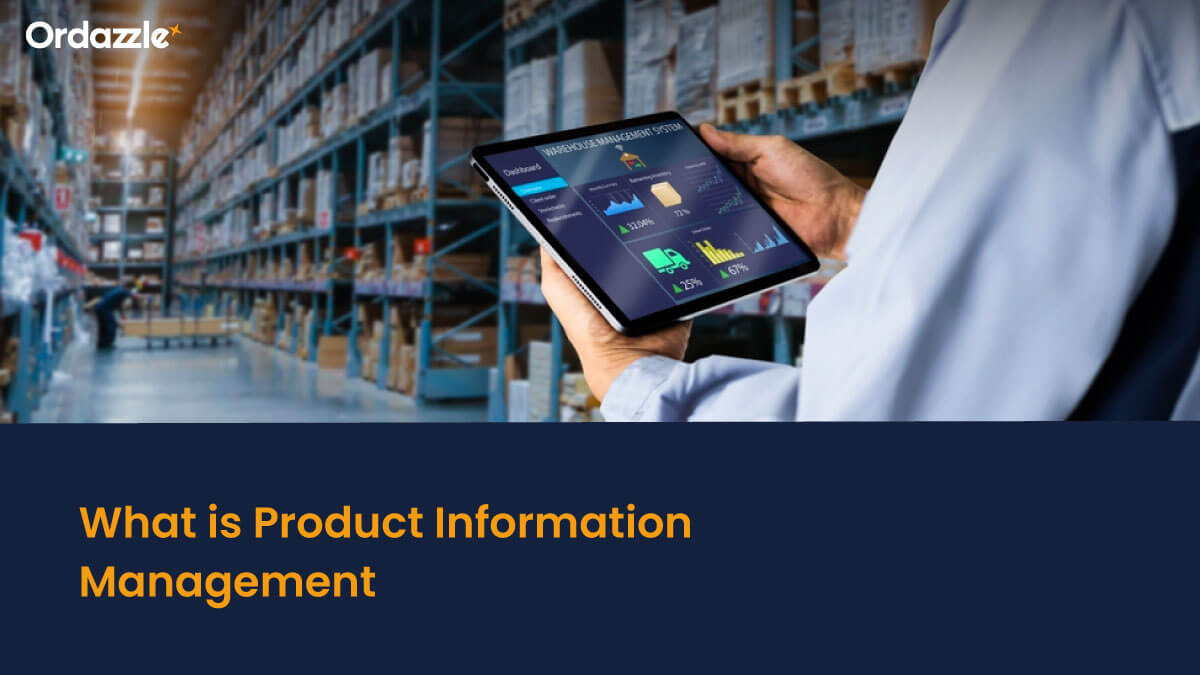 PIM acts as a central source of product content management. The specialized software solutions help to reduce errors and render a better customer experience. One can manage the product and update relevant information from a single location.
The growth of the product information management systems has been rising considerably in recent years, and the global market was valued at USD 2.49 Billion in 2021. According to the research, the global product information management market will grow from $3.01 billion in 2022 to $12.91 billion by 2029, at a CAGR of 23.1%.
A PIM tool can integrate with most eCommerce platforms, customer relationship management software, and enterprise resource planning softwares, ensuring that your organization always has the most current information about your products.
Challenges Faced by Corporations
With time, it becomes impossible to manage everything manually. However, with advanced e commerce management system solutions, you can leverage automation processes and update all the data, handle images, item numbers, and videos across multiple channels seamlessly.
Some of the challenges that business corporations face includes:
Error-prone data sets.
Incorrect inventory, such as depleted or overstocked.
Lacking up-to-date information may lead to client dissatisfaction.
Inefficient business processes lead to cost over-run.
With the advent of technology, the approach required to maintaining streamlined business operations needs advanced tools and strategies to effectively achieve business goals. Gone are the days when you used to manage every Excel spreadsheet as they were insufficient. Advanced analytics and reporting software can assist businesses in exploring new market opportunities in this fast-paced digital world.
Extracting Data with PIMs
Product Information Management Softwares allow extraction of a higher number of product data than you generally know. Let's walk you through some of the data types that you can extract using PIM solutions in your e-commerce business. :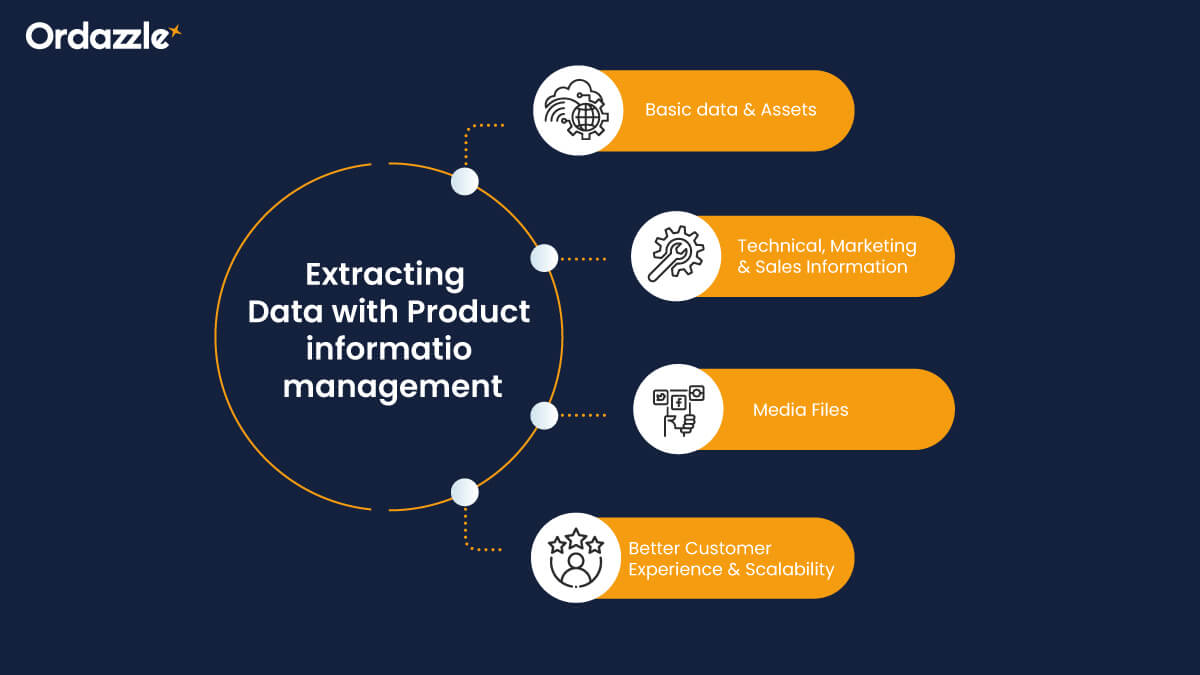 1. Basic data & Assets
PIM systems capture data directly related to the products themselves that may include universal product codes (UPCs), SKUs and article numbers, as well as product names, titles and miscellaneous information and more. In most cases, consumers won't buy a physical product until they've seen a picture or video of it in use. Using PIM software, you can store digital images, videos, gifs, and any other assets that illustrate how products look or are used.
2. Technical, Marketing & Sales Information
Before adding a product to the cart, buyers probably considered its fabric and materials, size and color. PIM systems can store all product characteristics, as well as more complex information such as weight, measurements, and warranties.
In addition to customer personas, keywords, mobile-friendly descriptions and Amazon titles, marketing data may also include SEO-related information such as Google categories and keywords. Using a Product Information Management system can make this process simpler as marketing data often needs to be updated over time.
3. Media Files
You can simplify and store all the digital resources in a streamlined and secure manner to effectively manage your business operations. Be it 3D renderings or any other media file, you can always utilize PIM solutions as per the requirement.
Basic Product Information Management Features
In today's dynamic shopping landscape, savvy consumers seek nothing less than the best deals before making a purchase decision. This demand for excellence prompts sellers to stay vigilant, constantly evaluating every touchpoint within their service. Here are some of the fundamental features that every PIM software offers:
1. Reducing Manual Entry
The Product Information Management Software reduces the scope of manual data entry as it automatically extracts information from other systems through the automation process and then infuses it into your e-commerce channel. It helps to lower the inconsistencies and time taken for the product information. With this feature, you can concentrate more on the creative portion of the products.
2. Central Database
The central hub would act as a single data source across all channels, ensuring a single source of product information. With a PIM software at your disposal, you can have a single, reliable data source that synchronizes effortlessly across all channels, revolutionizing the way you manage and distribute essential product details.
3. Real-Time Updates
Getting real-time data updates forms an integral aspect of a useful e commerce management system. Enabling proper communication helps to overcome the barrier seamlessly. Cross-functional teamwork, among other verticals, smoothens the process in an objectified manner. PIM systems also render customized access levels per hierarchy, providing better data security.
4. Better Customer Experience and Scalability
With PIM, you can amplify your sales and enrich your customer experiences with better sales service. It helps create user-friendly navigation catalogs and ensures the clients get everything through at their disposal, by allowing product filters as per requirement.
Conclusion
A well-implemented Product Information Management (PIM) system can be a game-changer for your business, propelling it to new heights and boosting revenue potential. By efficiently managing and organizing data, PIMs bring a host of invaluable benefits, promoting seamless collaboration among team members.
If you're on the lookout for a trustworthy partner to enhance your business prospects, Ordazzle is just a call away. Get Ordazzle, and unlock new possibilities for your business growth!